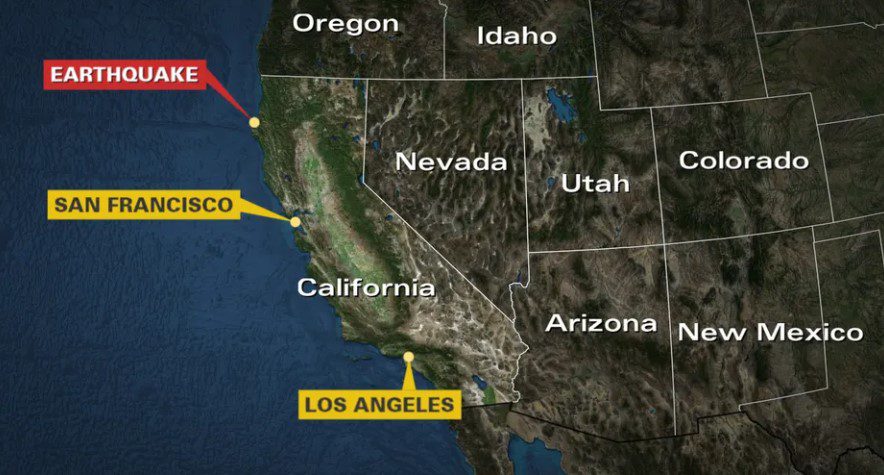 A massive earthquake shook the city of California in the United States. The bridge collapsed. Large parts of the city were plunged into darkness. This incident spread in the city on Tuesday morning. No tsunami warning was issued. But panic has spread. 2 people died and 11 people were injured, thousands of people suffering from the electricity crisis.
Everyone was enjoying the Christmas festival. Meanwhile, panic has spread in this terrible earthquake. Roads are cracked. Many houses were destroyed.
Geologists said that the earthquake was felt in Northern California early this morning (Around 2:45 PM to 3 AM). Residents came out of the house in panic from their sleep. On top of that, everyone is suffering from a severe cold.
The intensity of this tremor was 6.4 on the Richter scale. The epicenter was 40 kilometers southwest of the northern California port city of Eureka. According to the US Geological Survey (USGS), a strong earthquake is followed by about a dozen aftershocks.
However, the Ferndale Bridge over the Eel River outside the town of Ferndale was damaged. In addition, large areas of the Humboldt country lost electricity. About 60,000 people, including offices and homes, lost electricity. Internet connection also gets disconnected.
About 12000 people live there. A medical emergency has been declared in the city. The Humboldt County Sheriff said 11 people were injured in the quake. They have been admitted to the hospital. Many houses have been destroyed; people are being accommodated in temporary camps. Many houses have cracks. As a result, residents are unable to return home.
The United States USGS reported that such a large earthquake occurred after about 30 years. However, no tsunami warning was issued after this earthquake.
Incidentally, in 1994, such a strong earthquake occurred in Northbridge, northwest of Los Angeles. The magnitude of the quake was 6.7 on the Richter scale. The earthquake killed at least 60 people and caused property damage worth Rs 1,000 crore. Before that, 67 people died in the San Francisco earthquake in 1989. Also, there had a magnitude of 6.9 on the Richter scale.