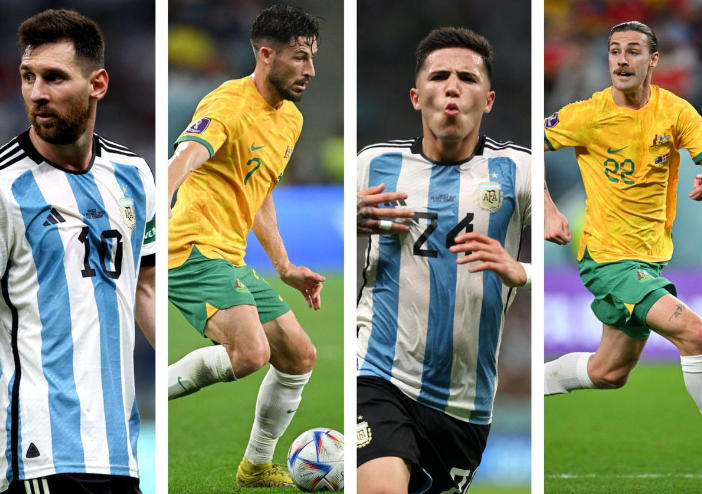 The FIFA World cup 2022 "round of 16", 2nd match will be played between Argentina and Australia in the Ahmadbin Ali Stadium. After becoming as, the runner-up in Brazil in 2014, Argentina got eliminated from the group stages vs Germany at the FIFA World cup 2018 held In Russia. And since 2006 this is the first time Australia has been qualified for the knockout stages. In fact, this is Australia's first chance to qualify for the quarter-final.
Argentina vs Australia FIFA World Cup 2022 Update
Argentina
After losing to Saudi Arabia by 2-1, Argentina shocked the fathom. But the good news is Argentina kept their cool and bounce back with boom by defeating two other tough teams Mexico (2-0) and Poland (2-0). Argentina qualifies for the knockout as number one in group-c. Argentina's win against Poland and Mexico with 4 goals shows a strong comeback in the tournament.
The dependency on Messi has been a problem for Argentina, but the last two matches against Mexico and Poland show that Argentina has the ability to win without the big fish. The only problem is fatigue, but Argentina coach Lionel Scaloni said that team will go to the field after two days of rest.
Australia
Similar to Argentina, Australia also defeated their first match against France. But that isn't a shocking one, because France is the defending world champion. But Australia did recover well in their next two matches by defeating Tunisia by one goal and Denmark by one goal.
In this knockout match Australia will face challenges against the team that has a great attacking power that we have seen in the match against Poland. Australia's defense power will be the main fuel in this match. Becoming the 2nd in group-D Australia surprised everyone. Hope they will look forward to shocking everyone again by defeating Argentina.
Argentina has played 7 matches against Australia, where 5 wins for Argentina and 1 win for Australia, and 1 match finished as a draw. Out of seven two matches were played in World cup.
Date Time and Place
2nd match of the FIFA World cup 2022 Round of 16 Argentina vs Australia will be played on December 4, 12.30 am (Indian time) onwards in the Ahmadbin Ali Stedium.
Live Streaming Details
The knockout match of Argentina vs Australia will be broadcast live on sports 18 and Jio cinema app. You can watch the live broadcast of the match.
Prediction
According to Our prediction of Argentina vs Australia knockout match, Argentina will finish the game 1-0.