The age of the match was 38 minutes. Lionel Messi went to head in the Poland box. Polish goalkeeper Wojciech Szczęsny committed a foul. The referee gave a penalty with the help of weight technology. What is the controversy? Because, according to many, Messi fouled Wojciech Szczęsny after heading.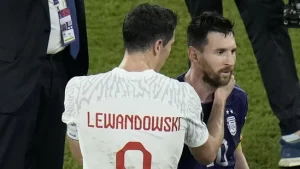 Messi prepared the ball. Shot to the right. But Durant's quick save is from Szczęsny. The whole stadium stopped. Leo is also disappointed. Fears in the stadium, Argentina will not have to withdraw from the group stage? McAllister and Julian Alvarez assured. Both scored in the second half. Argentina reached the last sixteen of the World Cup by crushing Poland 2-0 (Argentina vs Poland). From the top of Group C. Messi will face Australia in the last sixteen matches.
Argentina was desperate for victory from the beginning of the match. The result of this match was that, if they beat Poland, Argentina will qualify directly for the last sixteen. A draw will depend on the outcome of the Mexico vs Saudi Arabia match. Argentina did not want to read in the maze of numbers for natural reasons. They insisted on winning their matches.
From the beginning of the match, Messi and Angel Di'Maria repeatedly attacked the Polish box. But he could not open his mouth. It's good to say, Wojciech Szczęsny was an impenetrable wall in front of the Argentine footballers. At one point, the match was Argentina vs. Spain. He saved multiple goals in addition to stopping penalties. The first half ended goalless.
Argentina scored at the beginning of the second half. Molina crossed from the right side of the Poland box. McAllister beat Szczęsny with a perfect shot. Argentina leads 1-0. Argentina's second goal after 67 minutes. Enzo Fernandez passes the ball to Alvarez. Alvarez made it 2-0 with a perfect right foot instep.
Despite conceding 2 goals, Robert Lewandowski could not make a dent in Argentina's defense. However, Poland reached the knockout stage despite losing this match. In the other match, Mexico beat Saudi Arabia 2-1. Poland and Mexico, both teams have equal points (4) but lead on goal difference, so the Poland went to the next round. They face world champions France in the last sixteen.