Athletic Club vs Real Madrid: Real Madrid won the La Liga match 2-0 against Athletic Club at San Mames on Sunday night. Since the World Cup break, Real Madrid has come under heavy criticism for its discontinuous performance.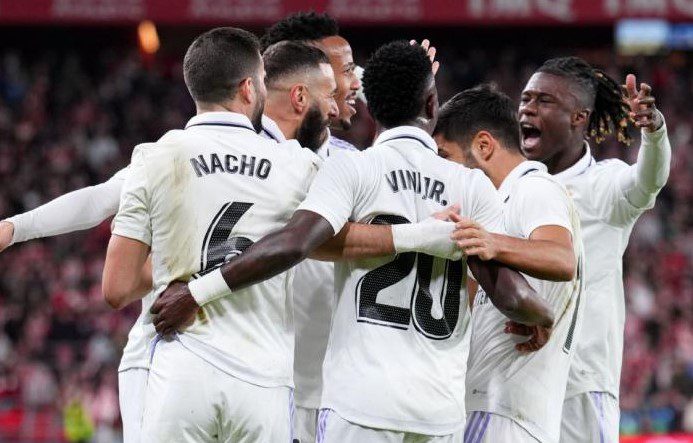 Prior to this match against Athletic Club, they had only won one of their last four matches, excluding a penalty shootout. Finally, the most successful team in Europe gave a glimpse of returning to the familiar rhythm.
Real Madrid Lost 2-1 against Villarreal in the last round. Real remain unbeaten in 15 La Liga matches against Athletic Club, including the last six Real won 11 matches.
Athletic Club vs Real Madrid Final Score:
Goals:

REAL MADRID – 24th min – Karim Benzema
REAL MADRID – 90th min – Toni Kroos
Coming to the match, Benzema had a half-chance in the seventh minute of the match, but his shot was not on target. Athletic got a chance in the 22nd minute. Inaki Williams' effort from an awkward angle hits the side of the net.
Also Read – Top 10 Best MMA Streams Sites | Watch MMA Online
Two minutes later, Real Madrid went ahead with Benzema's great goal. Dani Ceballos' cross in the D-box, Marco Asensio's head in empty space, was sent to the net by Karim Benzema with a sharp left-footed short.
Benzema joins Raúl at number five on the La Liga top goal-scorers list with both scoring 228 goals, overtaking Alfredo Di Stefano (227). Only Cristiano Ronaldo has more goals for Real Madrid in Spain's top league (311).
In the rest of the first half, no one could create a clear-cut chance. Benzema threw his jersey into the gallery before entering the tunnel during the break.
Nacho Fernandez got a chance in the 59th minute. His first effort from close range was blocked by the defense, the return shot was blocked by goalkeeper Unai Simon. After a while, Asensio had a golden opportunity to increase the score but he couldn't put the shot on target.
Also Read – 25+ NFLbite | NFLBites | NFL Bite Alternatives, Best Sites Like NFLbyte
In the 73rd minute, the Madrid coach replaced Asensio with Luka Modric as the first substitute. In the 78th minute, Inaki Williams sent the ball into Real's net, but the goal was dismissed due to offside.
Toni Kroos scores the 2nd and the final goal of the match for Madrid five minutes after replacing Ceballos in the 85th minute. The experienced German midfielder ran into Rodrigo's pass and scored a powerful low shot from outside the box.
Barcelona leads the table by 6 points after beating Getafe 1-0 in the previous match. Barcelona tops with 44 points in 17 matches. Real is in the 2nd position with 41 points in the equal match.