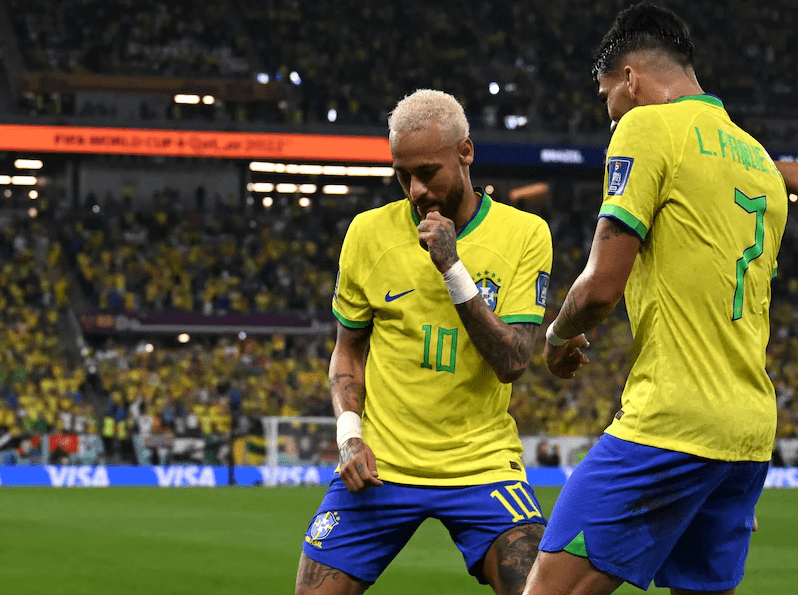 After a comprehensive World Cup victory, 4-1 against South Korea Brazilian players gave tribute to the legendary player Pele. Pele is on treatment in Sao Paulo hospital because of his colon cancer.
Brazil plays a stunning victory following Monday's last-16 match in Doha at 974 Stadium. In the first half, 4 goals came from Brazil where Neymar, Vinicius Junior, Lucas, and Richarlison scored 1 goal each. And in the 2nd half, Paik Seung-ho's scored 1 stunning goal for his team, but unfortunately, they lose the game.
Brazil vs. South Korea Final Score, FIFA World Cup 2022
Goals:

BRAZIL — Vinicius Junior (Raphinha) — 7th minute.
BRAZIL — Neymar (penalty) —13th minute.
BRAZIL — Richarlison (Thiago Silva) — 29th minute.
BRAZIL — Paqueta (Vinicius Junior) — 37th minute.
SOUTH KOREA — Paik Seung-ho — 76th minute.
Neymar has returned from his ankle injury and scored on 13th-minute penalty, he said, "It's hard to talk about what Pele is going through right now but I wish him all the best".
Dedicated to the legend Pele he also said, "I hope he will be back in good health as soon as possible and that we could have at least comforted him with the victory".
Pele's fight with colon cancer gives motivation for the players to make record by winning this World Cup which will be 6th World Cup title for Brazil. Out of 5 world cups first 3 of which Pele was part of. Hope this time Brazil will make to 6th for the tribute the legend Pele.
Vinicius said, "He needs a lot of strength from us and this victory is for him, so that he can come out of this situation and that we can be champions for him".
During Neymar's injury Neymar was crying a lot, after the opening match against Serbia he thought his tournament might over because of his injury. But Neymar's return gave Brazil a huge boost, his penalty goal against South Korea took Neymar to within one goal of Pele's record 77 striker for Brazil.
Neymar said, "When I got injured, I spent a very difficult night. I was thinking of a million different things. I was afraid of not being able to play in this World Cup again but I had the support of all my teammates and my family who gave me strength".
Respecting Neymar Richarlison said that Neymar's comeback makes the game easy for other players. "I'm very happy about the return of Neymar. On the pitch he drags away two or three players creating space for the others", Richarlison said, who scored total of 3 goals in this tournament so far.
Assistant coach Cesar Sampaio said, "Neymar provides a competitive advantage, he makes the difference on the pitch, he's the driving force".