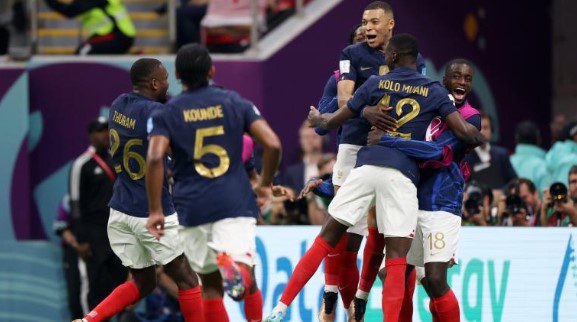 France vs Morocco: France has a 2-0 lead against Morocco in the second semi-final of the World Cup. Theo Hernandez scored the first goal. The second goal was scored by Randal Kolo Muani. France started the match brilliantly. They scored a goal in five minutes.
Until this match, in the World Cup no football player from the opposition could put the ball in the Moroccan net. That precedent was broken on Wednesday night, Theo Hernandez broke it.
France vs Morocco Final Score:

Goals:
FRANCE — Theo Hernandez (5 mins)
FRANCE — Randal Kolo Muani (79 mins)
After five minutes, Raphael Varane sent a great ball to Antoine Griezmann. Griezmann stepped forward and passed the ball to Kylian Mbappe. Mbappe had a shot at goal twice but it was blocked. It bounced off a defender at the last and went to Theo on the left.
The Moroccan defenders then moved to one side. Theo, on the opposite side, jumped slightly and left-footed a side volley into the net. This is the fastest goal in a World Cup semi-final since 1958.
Morocco had a great chance to equalize in the first 10 minutes. Eddin Ounahi shot from the right outside the box. Hugo Lloris somehow managed to clear the ball by leaping to the left. After 17 minutes, the chance to increase the gap came in front of France.
The ball floated from midfield to Olivier. He stepped forward a bit and hit a powerful shot on the left leg. It hits the post and goes out of the field. But Yasin Bunu had nothing to do even though he was standing there.
France was attacking from the start of the second half. Griezmann floated the ball from the left side. From there Jules Kund's shot goes wide. The next few minutes saw a flurry of Moroccan attacks. At least twice they came close to scoring.
Ibrahima Konate and Varane saved France from conceding goals. Varan saved N-Nesiri's shot by jumping to the right. After that, Boufal came up from the left side. His floater into the box cleared Konate before Ounahi could shoot.
After 75 minutes, Morocco had another chance. Hamidallah took the ball from Chuameni's feet and entered the box. The French defenders were still not in their positions. But instead of taking a shot, he was busy cutting one defender after another in the box. As a result, the French defenders snatched the ball from his feet within moments.
Kolo Muani scored ten minutes before the end of the scheduled time. This time, the goal came from Mbap's effort. Chuameni received the ball from the middle of the box. He passed Mbappe. Mbappe tried to score through two or three defenders. The ball hits the feet of a Moroccan defender and goes straight to Kolo Mouani who is standing on the right. He entangled the ball in the net.