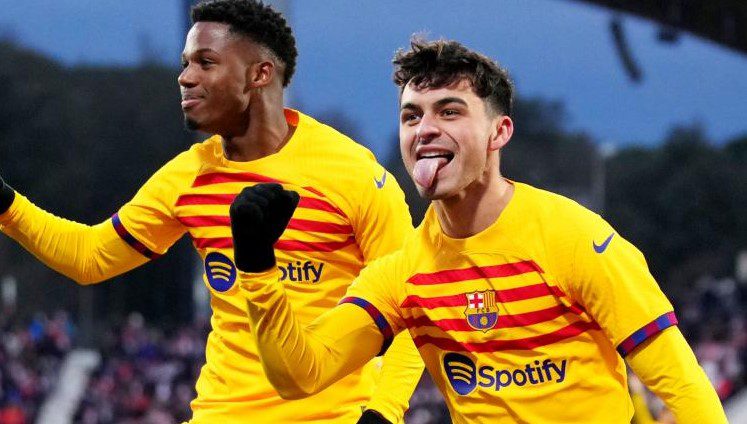 Girona vs Barcelona: Barcelona bought Pedri from Reading for just 5 million euros. That Pedri is now the lifeblood of Barcelona. He played the 100th match in the Barcelona jersey yesterday. And this young man scored the winning goal in that match.
Coach Xavi Hernández is not satisfied even though his team wins. Because one of the best stars of the team Ousmane Dembele is injured. The youngster is expected to be sidelined for at least three weeks.
However, Dembele's injury has become a bigger concern than winning. In the 25th minute of the match, he sat on the ground holding his left leg. After that, the young man started pointing to change him.
Barca's coach also said, "It's a shame because he is one of the most decisive footballers for us, the most differentiator. We'll look at the tests, but he's figured something out. We hope it's as little as possible, but he has a quadricep injury".
Girona vs Barcelona Final Score:

Goals:
BAR — Pedri — 61st min.
However, Pedri was not in the first eleven on the match that day. Pedri entered the field as the replacement for Dembele. And this young man won Barcelona as a substitute. The only goal of the match came from him. With his goal, Barcelona beat Girona 1-0 in the La Liga match on Saturday night.
Also Read – Top 10 Best MMA Streams Sites | Watch MMA Online
However, Barcelona could have gone ahead in the 15th minute of the match. Dembele could not score a goal despite receiving a pass from Ansu Fati. Ousmane Dembele was injured in the 26th minute of the match. As a replacement, Pedri came to the field. After two minutes, Fati got a chance to score. He failed to take a shot at the target.
Pedri scored the winning goal in the 61st minute of the match. The young man scored from Jordi Alba's high ball from the left side. He scored in the third match in a row for Barcelona.
Also Read – Stream2Watch Alternatives | 10+ Sites Like Stream2Watch Proxy/Mirror
Girona played desperately to repay the goal at the end of the match. Iván Martín wasted a golden opportunity in the 85th minute. The team could have returned to the match if Cristhian Stuani took the right header in added time.
With this victory, Barcelona increased the gap with Real Madrid who is in second place. The difference between the two teams is now 6 points. The Catalan team is at the top with 47 points in 18 matches with 15 wins and 2 draws.
Real Madrid is behind them with 41 points after playing one match less. The present champions will take on Real Sociedad at home tonight. Real can close the gap with Barcelona if they win this match.