Impeccable Messi. Argentina has regained its old rhythm yesterday. Last night Argentina vs. Mexico match Argentina won the great match with two goals through a great performance.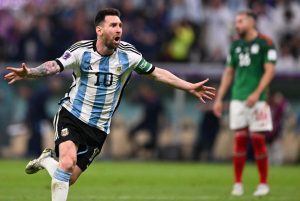 This is like a fairy tale game, after losing to Saudi Arabia in the first match, football experts believe that today's fast victory against Mexico will give oxygen to Messi and Argentina.
Winning this match was very important for Argentina and Messi to reach the top 16.
Argentina was under a lot of pressure after losing to Saudi Arabia in the first match.
Winning this match will give Argentina an oxygen and will give them confidence to perform well in the next World Cup matches.
However, Mexico's performance today was not very good, but if the goalkeeper did not perform well enough, there could have been many more goals.
Although Argentina and Mexico could not score any goals in the first half.
However, in the 64th minute of the second half, Messi's incredible goal helped Argentina take the lead.
And in the last eighty-seven minutes, Mexico's goal gave the definition.
However, to qualify for the group, Argentina must win the next match.
But this win will give Messi a lot of confidence in what is probably his last World Cup.
So Messi as well as the whole Argentina wants to take the World Cup back to their country after Maradona.