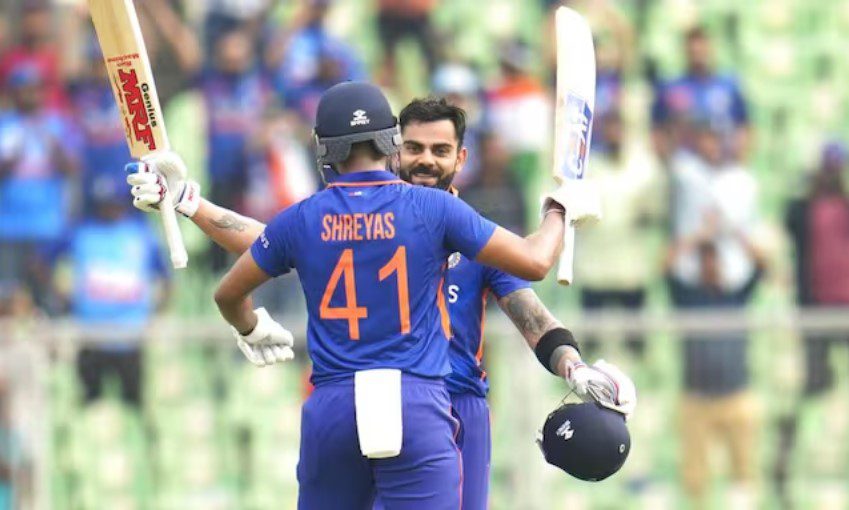 Beating Sri Lanka by 317 runs in the IND vs SL 3rd ODI match, India registers the largest margin of victory in ODI cricket history. It's a record win in ODI for any team in the world. The last highest margin win was created in the 2008 New Zealand vs Ireland match, where New Zealand beat Ireland by 290 runs.
India already won the series in the previous IND vs SL ODI match. India dominated through the whole series. But in this match, India just crushed Sri Lanka first with batting and next with bowling.
A great batting performance as Virat Kohli and Shubman Gill's duo hundred pleased the eyes of Indian fans.
India vs Sri Lanka 3rd ODI 2023 Score Card: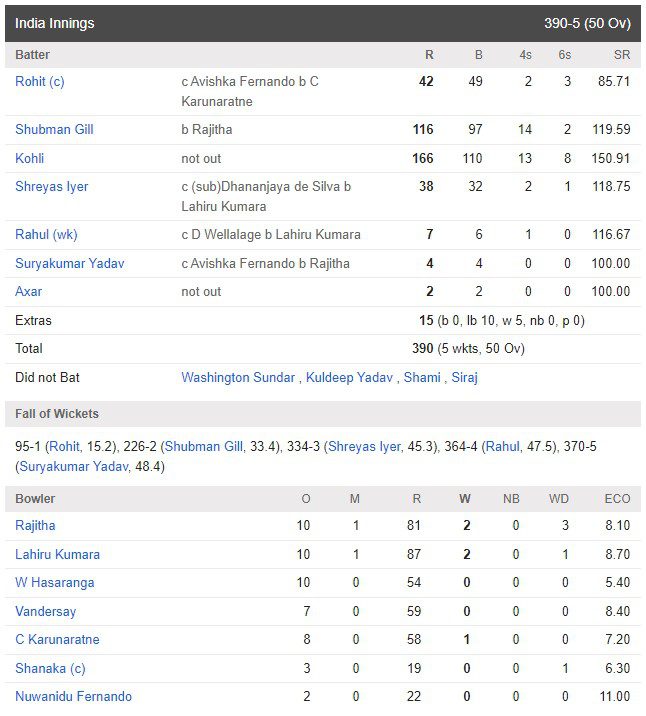 India won the toss and elected to bat first. Rohit Sharma and Shubman Gill gave a solid opening start by scoring 95 runs in just 92 balls. Unfortunately, Rohit got out on the 16th over on the delivery of Karunaratne which was the first wicket loss for India. He made 42 facing 49 balls.
Also Read – Top 25+ Best Free Sports Streaming Sites No Sign-Up/Registration [LIVE]
And then Virat Kohli and Shubman Gill made another big partnership of 131 runs in just 110 balls. Shubman got out in the 34th over on Rajitha's ball. But Shubman played his part by scoring 116 off 97 deliveries. This is his second ODI international hundred and the first one on Indian ground.
And next king Kohli remain not out at the end and scored 166 off 110 balls. With the help of 13 fours and 8 sixes, Kohli made his 46th ODI and total 74th century. And this is his 5th 150-plus ODI hundred.
Shreyas Iyer contributed 38 runs facing 32 balls. In the end, India put a huge score of 390 runs on the board in 50 overs.
All Sri Lankan Bowlers were expensive except Hasaranga he gave 54 runs in his 10 overs but hasn't taken any wickets. Rajitha and Lahiru Kumara took 2 wickets each and Karunaratne took 1 wicket for Sri Lanka.
Also Read – AFDAH New Site Review | Best AFDAH Alternatives in 2023
Sri Lanka bated very poorly, Sri Lanka all out scoring 73 runs in 22 overs. It's obvious that the target was huge, but they didn't show any fight at all. None of the Sri Lankan players were able to cross 20 runs margin.
3 Indian Bowlers Finished the match for Sri Lanka. Mohammed Siraj took 4 Wickets in his 10 overs spell conceding 32 runs which is the best bowling figure for India in this match. Mohammed Shami and Kuldeep Yadav took 2 Wickets Each.
Although this is India's best ODI performance in Cricket history. Player of the Match and Player of the Series is given to Virat Kohli.
Mohammad Siraj tried to get his first 5th wicket; Rohit also helped him to achieve that by bowling him a complete 10 overs but unfortunately, he couldn't make it.