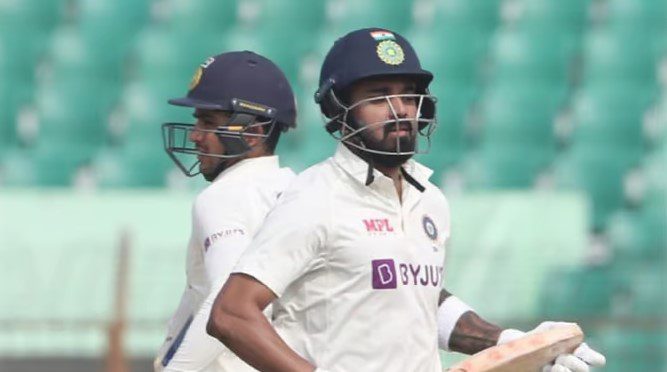 India cornered Bangladesh on the first day of the second Test match of India vs Bangladesh, India bowled out Bangladesh for just 227 runs in 74 overs in the first innings.
India's fast bowler Umesh Yadav and spinner Ravichandran Ashwin took 4 wickets each. And left-arm pacer Jaydev Unadkat collected the remaining two wickets.
After a disappointing loss in the previous Test match, Bangladesh had to face many questions, this time they have to face India's trio bowling attack.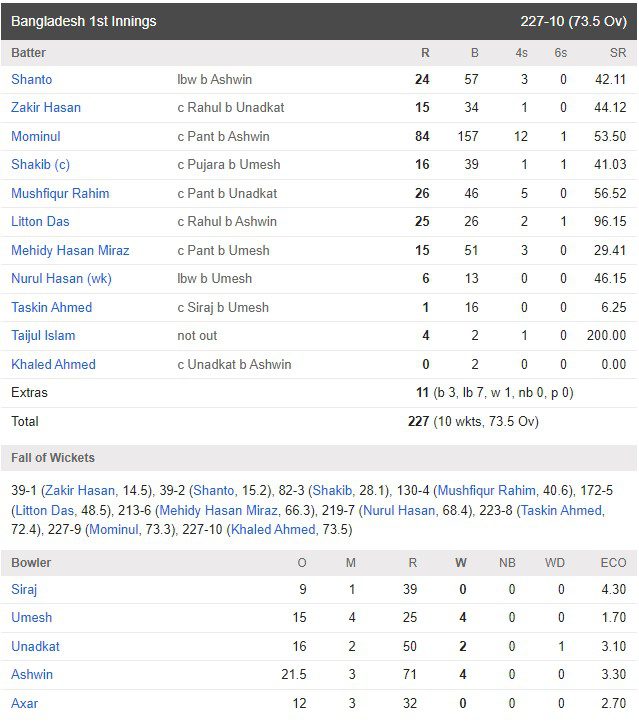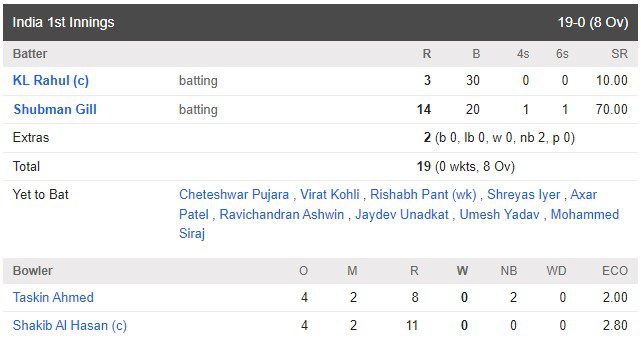 Although Mohammad Siraj and Akshar Patel performed well in the first Test match, but they have returned empty-handed in the first innings of this match.
Current inform batsman Mominul Haque scored 84 runs for Bangladesh, which was the highest score in the entire Bangladesh innings. No other player could even get close to the half-century mark. Bangladesh was able to score a total of 227 runs for India's strong batting lineup.
India's left-arm fast bowler Jaydev Unadkat returned to the Test match after 12 consecutive years. This became a record in Indian cricket history for a player to play his second Test match after such a long time.
Jaydev Unadkat was replaced by India's top spinner Kuldeep Yadav. Which was a very strange thing for the fans. Because Kuldeep Yadav was the best bowler in the first test match taking 8 wickets.
Kuldeep's non-selection after a brilliant performance was a disappointment, but his absence was not felt in this match as Ashwin's ball was taking a lot of turns in the match and giving the Bangladeshi players a lot of trouble.
After this, India's batting innings started for the remaining 14 overs. But due to bad lighting conditions, India had to finish the innings after playing 8 overs.
Talking about Bangladesh's bowling, Shakib Al Hasan trapped KL Rahul in an LBW, but Drs saved KL Rahul.
At the end of the Indian innings, India scored 19 runs for the loss of no wickets after 8 overs. Shubman Gill had scored 14 runs from 20 balls, while KL Rahul scored 3 runs from 30 balls.