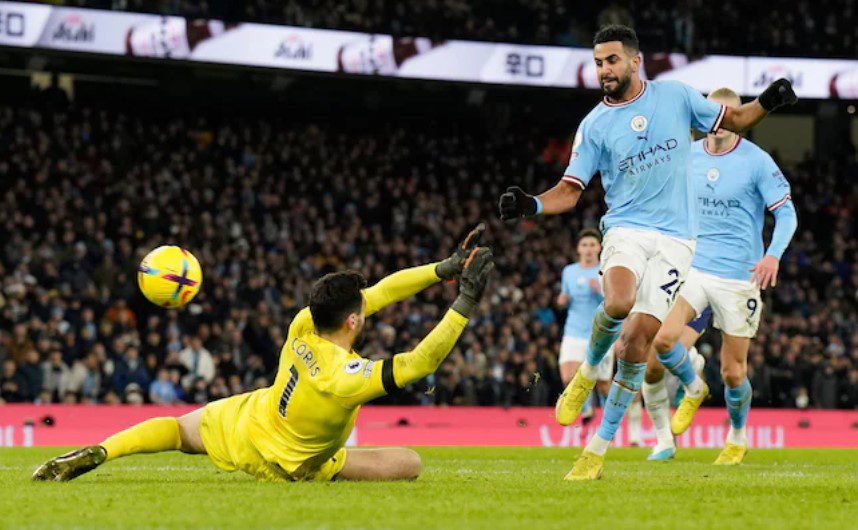 Man City vs Tottenham: The title holders won the English Premier League thriller 4-2 at the Etihad Stadium on Thursday night. Mahrez scored twice for Man City. Alvarez and Erling Haaland scored one each. It was one of the matches postponed following the death of Queen Elizabeth II last September.
In the beginning, both teams were equal in possession, but neither could create a clear chance. In the 36th minute, Son Heung-min's header was blocked by City's goalkeeper Ederson.
Also Read – Best 20+ M4UFree New Site Review | M4UFree Unblocked Mirror/Proxy
Tottenham survived four minutes later thanks to Hugo Lloris' tenacity. Rico Lewis' shot from outside the box deflected off a defender's leg but the French goalkeeper stopped the ball by jumping.
Holland had two chances after 3 minutes. But Hugo Lloris came forward and blocked the ball and the ball flew over the crossbar.
After that, Tottenham scored two goals in three minutes. After receiving a backpass from a teammate, the Brazilian goalkeeper made a poor pass to Rodri. However, after controlling the ball, Rodrigo Bentancur passed to Dejan Kulusevski. The Swedish midfielder did the rest. After that, Emerson increased the score with a header.
Man City equalized the score with two goals in three minutes after the start of the second half.
Also Read – Top 25+ Best Free Movie Streaming Sites No Signup To Watch Movies Online
Argentina's forward Julián Álvarez, who won the World Cup, scored the team's first goal with a close shot. Holland sent the ball into the net by heading Mahrez's head pass in the box and completed the regret of not getting a goal in 3 matches.
They went ahead in the 63rd minute. Mahrez hit the target with a shot from a difficult angle on the right side.
This Algerian forward put an end to all uncertainty with his second goal in the last minute of the scheduled time.
Man City is in second position with 42 points from 13 wins and 3 draws in 19 matches. Arsenal tops with 47 points after playing one match less.
Manchester United is in third position with 39 points in 19 matches equal to City. Newcastle United are fourth with 1 point less than them. Tottenham is fifth with 33 points in 20 matches.