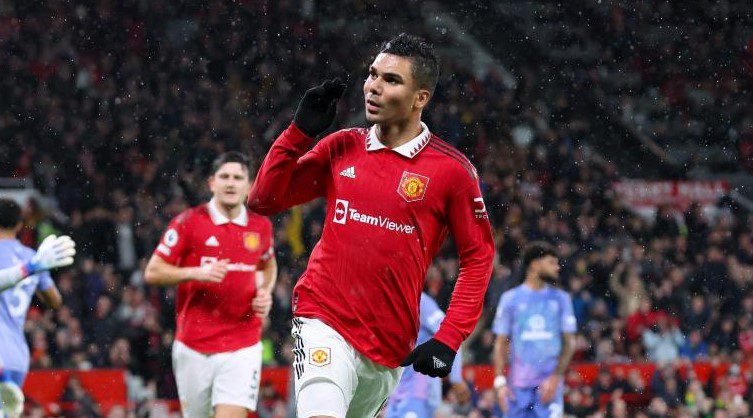 Man United vs Bournemouth: Manchester United maintained their winning streak in the EPL. Manchester United beat Bournemouth 3-0, in the first match of the year 2023. Manchester United put the opposition under pressure from the start. As the match progresses, Manchester players continue to give their best. As a result, there was no way for the opposing team to turn around.
Luke Shaw extended the lead early in the second half after Casemiro put his side ahead. The team's third goal was scored by the in-form player Marcus Rashford.
Manchester United started playing great from the start of the match. Casemiro put the team ahead with a goal after 23 minutes of the match. Casemiro scored a great volley from Christian Eriksen's free kick.
The Score could have increased ten minutes later but a great ball from Bruno Fernandez was blocked by the Bournemouth keeper before it reached Rashford. There were no more goals in the first half. And United went into the break with a 1-0 goal lead.
Being ahead in the first half, Man U footballers did not stop toying with the opponent in the second half. In the second half, the entire baton of the match is in the hands of Man United. As a result, Bournemouth kept losing as the match progressed.
At the start of the second half, Luke Shaw scored in the 49th minute to increase the team's goal count. Shaw found the address with a bullet speed shot after receiving the ball from substitute Alejandro Garnacho's cutback. The English left-back was also at the beginning of this attack which ended in a wonderful team goal.
Anthony Martial missed a golden opportunity to make the score line 3-0 in the 55th minute. Casemiro's excellent cross could only be headed at the far post from six yards out.
It wasn't that Bournemouth couldn't create chances. But in that sense, Manchester United dominated over Bournemouth.
United's Spanish goalkeeper became a wall of China when it was needed. In the 57th and 58th minutes, he failed three Bournemouth goal attempts with great skill.
In the 78th minute, young Argentine forward Garnacho hit the far post after receiving a ball from Fred on every attack.
Two minutes later, Diogo Dalot's attempted corner was saved by the Bournemouth goalkeeper. In the 82nd minute, again he blocked Garnacho's great volley.
Rashford confirmed the victory after four minutes. The English forward easily sent the ball into the net after receiving the ball from Bruno Fernandes.
In the other match of the day, Arsenal drew with Newcastle United. Arsenal is at the top with 44 points in 17 matches. Manchester City has an opportunity to top the table as they are in 2nd position with 36 points in 16 matches.