Napoli vs Juventus: Massimiliano Allegri's Juventus started the season badly. However, before the match against Napoli, Juventus was progressing well in the title race with 8 consecutive wins. But on Friday night (January 13), Napoli may have knocked Juventus out of the title race. The current league leaders crushed Juventus 5-1 in the Serie A match.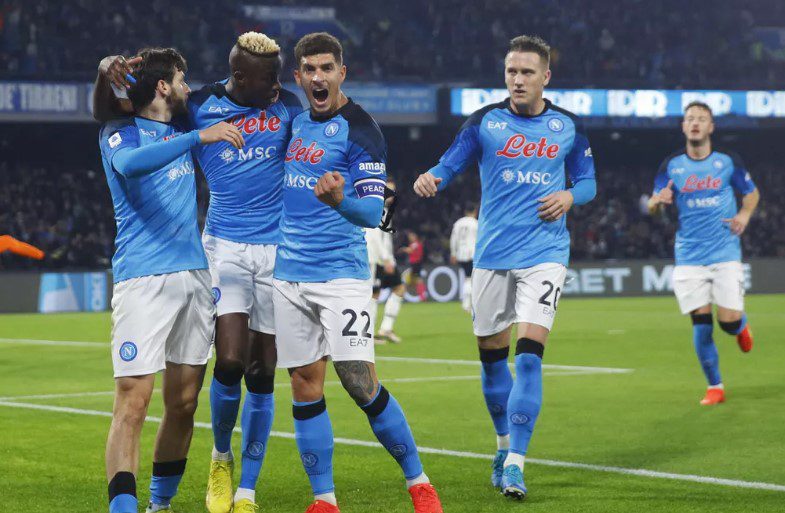 It was Victor Osimhen's night at the Diego Armando Maradona Stadium. This Nigerian striker scored two goals in the match. Which started in 14 minutes of the match. Georgian star Khvicha Kvaratskhelia's bicycle shot was parried by the Juve keeper but bounced back to Osimene, Victor Osimhen then easily slotted into the net.
Napoli vs Juventus Final Score:
Goals:
Napoli – 14th Minute – Victor Osimhen
Napoli – 39th Minute – Khvicha Kvaratskhelia
Juventus – 42nd Minute – Di Maria
Napoli – 55th Minute – Amir Rrahmani
Napoli – 65th Minute – Victor Osimhen
Napoli – 72nd Minute – Elif Elmas
Osimhen also assisted in the second goal. In the 39th minute of the match, Kvaratskhelia scored with his long ball in the D-box. Di Maria (Argentine winger) scored one goal after Napoli scored 2 goals. In the 42nd minute, World Cup winner Di Maria played a one-two with Arkadiusz Milik in the D-box and scored a great goal.
Also Read – How to remove TikTok filter on TikTok App
However, Napoli scored three more goals after the break. In the 55th minute, Napoli's defender Amir Rrahmani got the ball from the corner. 10 minutes later, Osimhen scored again, which was his second goal of the match. And in the 72nd minute, Elif Elmas scored an extraordinary goal after getting the ball from Di Lorenzo in the D-box and beating two defenders of Juventus.
Juventus faced such a bad loss after 30 years. The last time Juventus lost by this scoreline was against Pescara back in 1993. Meanwhile, Napoli is moving towards the league title after 33 years. Napoli last won the league title in 1990 under Diego Maradona.
Also Read – 20+ Soap2Day New Site Review | Best Soap2day Proxy
After the match, coach Massimiliano Allegri commented that such a loss was deserved by Juventus. He said, "There are certain rates that you don't deserve. Again, there are rates that you deserve. We deserved this loss".
With this victory, Napoli strengthened the top position of the league table. Napoli has 47 points in 18 matches. Juventus is third in the table with 10 points less in equal matches. Meanwhile, AC Milan is third in the table with 37 points equal to Juventus after playing one match less.