Pays de Cassel vs PSG: PSG played a child's game against Pays de Cassel. One goal after another. Kylian Mbappe scored five goals alone. Christophe Galtier's team reached the last sixteen of the French Cup after beating sixth-ranked club P de Kessel in French football.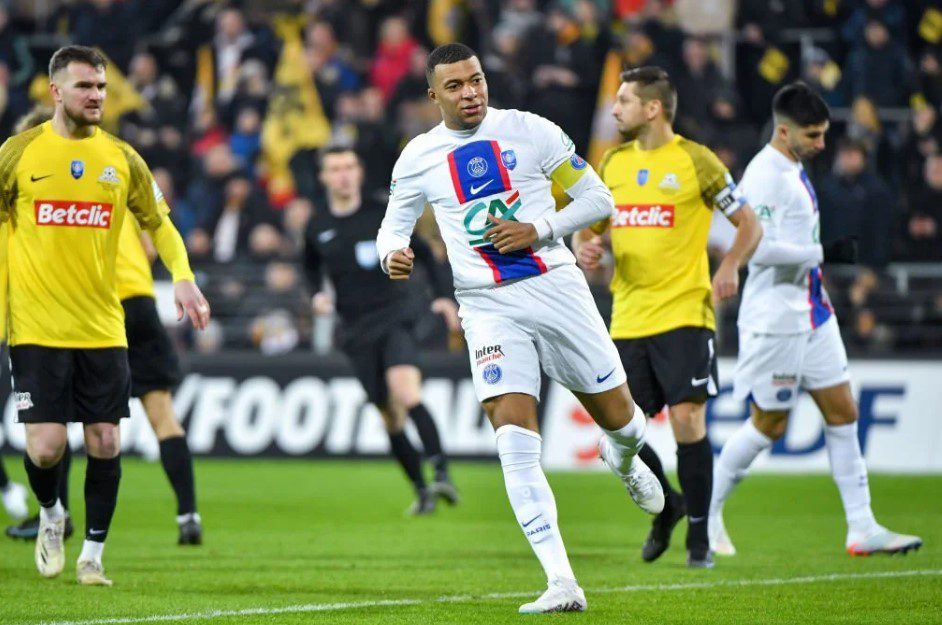 The Paris club won 7-0 on Monday night in the last 32 of France football's second-best competition. Neymar and Carlos Soler scored the other two goals for the team without Lionel Messi.
PSG jumped into attacking mode from the start of the match. Mbappe sent the ball into the net in the 10th minute but was whistled for offside.
The first goal was scored in the 29th minute. Mbappe beat the goalkeeper with a left-footed shot after receiving a pass from Nuno Mendes in the box. In the 34th minute, the French forward took Danilo Pereira's through ball and sent the ball over the goalkeeper and into the net.
Also Read – Top 25+ Best Free Sports Streaming Sites No Sign-Up/Registration [LIVE]
Neymar scored the second goal of the team between these two goals. The Brazilian forward got his extended ball in the D-box with a return pass and after he entered the D-box. Then Mbappe gave a return pass, and Neymar made the scoreline 3-0 after catching the ball.
Mbappe's hat trick was completed in the 40th minute. He scored the goal with an angling shot after catching Portuguese midfielder Vitinha's through ball in the D-box.
Even after the break, PSG continued to monopolize the pressure as expected. The goals came earlier in this half. In the 56th minute, Neymar sent a through ball over the defenders into the D-box, which the goalkeeper failed to catch. Mbappe scored his fourth goal very easily.
Also Read – Top 10+ Best Free NHL Streaming Sites 2023 To Watch NHL Online
In the 64th minute, the score increased further. Attacking from the left side, Neymar passed the defender and dodged the goalkeeper to forward the ball near to the goalpost. The Spanish midfielder caught the ball and sent it into the net with a right-footed shot.
In the 79th minute, Mbappe scored the last goal after taking a pass from Soler from the right side. They created numerous chances in the rest of the period, but they can't score more goals.
PSG grabbed a big win by beating Pays de Castle 7-0 in the French Cup. Argentina superstar Lionel Messi was not included in Monday's match. Speculations started about his absence.
The absence of Messi was not really appeared in the match because of Mbap's dominance throughout the match. PSG has confirmed the pre-quarterfinal without him.