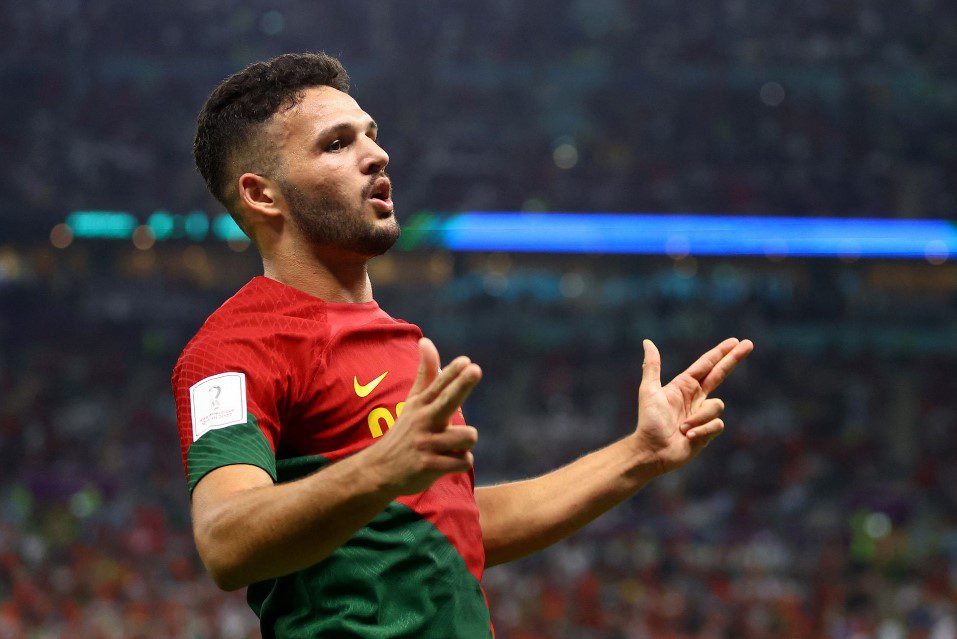 Portugal vs. Switzerland: After being named as Cristiano Ronaldo's shock replacement, Goncalo Ramos scored a stunning hattrick goal against Switzerland, which leads Portugal to the quarter-final with a magnificent win 6-1 against Switzerland in the last game of the FIFA world cup "round of 16".
Goncalo Ramos's performance shows that he has the guts to stand in for Cristiano Ronaldo who stole the show and fixed a quarterfinal battle against Morocco. This is Goncalo Ramos's first match for Portugal's national team.
Portugal vs. Switzerland final score

Goals:
PORTUGAL — Goncalo Ramos (Joao Felix) — 17th min.
PORTUGAL — Pepe (Bruno Fernandes) — 33rd min.
PORTUGAL — Goncalo Ramos (Diogo Dalot) — 51st min.
PORTUGAL — Raphael Guerriero (Goncalo Ramos) — 55th min.
SWITZERLAND — Manuel Akanji (Goncalo Ramos) — 58th min.
PORTUGAL — Goncalo Ramos (Joao Felix) — 67th min.
PORTUGAL — Rafael Leao (Raphael Guerriero) — 90th min+2.
Before the team selection in the past month, Ramos hasn't played any game for Portugal. He has been given the 26th no-shirt in the 26-player squad and only played a few minutes against Ghana and Uruguay. He didn't attempt any goals in those matches.
On Tuesday, Fernando Santos who is the boss of the Portugal team surprisingly called Goncalo Ramos in place of Ronaldo. But with his 3 goals on Tuesday Ramos shocked the world and became one of the sport's hottest prospects.
After being selected for player of the match Ramos said through a translator, "Not even in my wildest dreams did I think about being part of the starting team for the knockout stage"
For qualifying for the semis Morocco will play quarter-final against Portugal, and after the performance of Ramos, there is a matter of concern for Morocco, because they don't know anything about Ramos. Bruno Fernandes who is a midfielder for Portugal says, "Most people in the world had never heard about him until today".
In the beginning, Goncalo Ramos aggressively throw a shot in the 17th minute from a top corner before Pepe who is 18 years senior. Then passes started flowing, attacks are coming like waves, and leaving the opposition with no choice, they were unable to track the mobility and speed of the players like Bernardo Silva and Fernandes.
"Gonçalo is more dynamic, Cristiano currently is a player who is more fixed and plays in a more determined area", Santos said.
After the final whistle of the match players met in the center circle, senior star players hugging Ramos's potential successor. Ramos was holding the match ball which is an obvious gift for the player who scored 3 goals.
In the past three world cups, this hattrick is the fifth hattrick goal and the first hattrick in this world cup. Out of 5, one hattrick came 4 years ago from Ronaldo, when he was 33 in a group stage match against Spain.