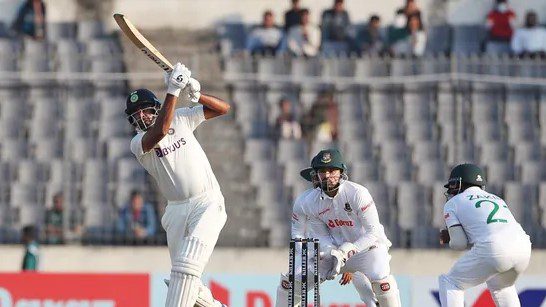 India won the Test series by beating Bangladesh 2-0 in Mirpur. Shreyas Iyer and Ravichandran Ashwin's batting pulled them back from a certain defeat. The fans of Bangladesh were devastated by this loss on Christmas Day. Bangladesh lost a total of 11 Test matches to India with this.
Bangladesh has been playing Test matches against India since 2000. So far, they have not seen the face of victory. Bangladesh team lost despite having that chance on Christmas Day. Shreyas and Ashwin won the match by reaching the target of 145 runs.
At one point India's score was 74/7. Bangladesh was waiting for a miracle holding the hand of Miraj. But the batsman Ravichandran Ashwin fought hard at the end. Shreyas Iyer was found as a partner at the other end of the wicket.
Due to the partnership of these two, India won by 3 wickets in Sher-e-Bangla. Ravichandran Ashwin was Man of the match for his impeccable performance with bat and ball.
After finishing at 45/4 yesterday, Team India did not make a good start when they went into bat with a target of 100 runs in front of them. One wicket after another kept falling. Jaydev Unadkat (13), Rishabh Pant (9), and Akshar Patel (34) returned quickly.
Then Shreyas Iyer and Ravichandran Ashwin took charge of the batting. And Ashwin played unbeaten innings of 42 runs off 62 balls. Hit 4 fours and 1 six. Ashwin's batting in difficult times has been praised by all. Shreyas Iyer gave him worthy support by scoring 29 runs.
Ravichandran Ashwin was selected for the player of the match award. "We didn't have much batting left. It was one of those games where we let the game drift whenever we could have shut it off. Shreyas batted beautifully. Sometimes these situations you feel like you have to get ahead of things", Ashwin said.
Cheteshwar Pujara is selected for the man of the series award. He said it's been a great competitive series. I have been working hard on my game. Played a lot of First-class cricket and then worked a lot on my game, that's what helped me score these runs. Sometimes, there is enough gap between Test matches, it helps you prepare.
If you look at the history of India's Test match with Bangladesh, it can be seen that India-Bangladesh met for the first time in November 2000 to play a Test. India won that match by 9 wickets. Since 2000, India-Bangladesh played a total of 13 Tests, India won 11 of them, but Bangladesh hasn't scored a single win so far.