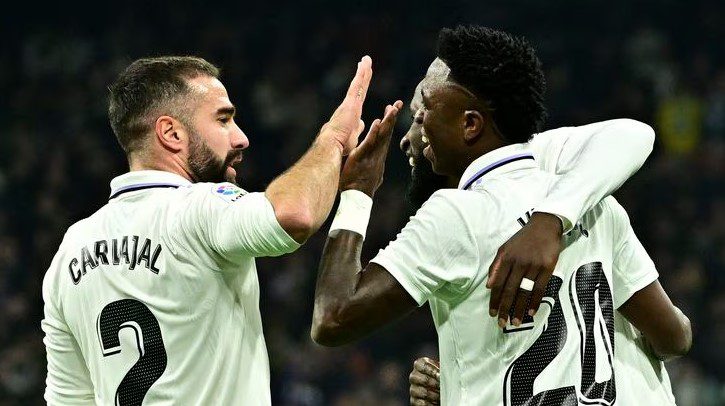 Real Madrid vs Valencia: Real Madrid won the La Liga match 2-0 at the Santiago Bernabeu on Thursday night. Real Madrid's performance faltered in the last fifteen minutes of the first half after several easy chances were missed. But in the second half, they came back into the match brilliantly. Two goals were scored in just three minutes which turned the table for Real Madrid. In the end, Valencia could make it and had to accept the defeat.
Coming to the match, right from the start of the match, Real made a great attack, they also got a chance. However, after getting Luka Modric's through ball in the D-box, Asensio's shot was deflected by the goalkeeper.
Also Read – Best 10+ Vipbox Alternatives To watch Live Vip Box Sports Online Free in 2023
Real could have gone ahead in the 18th minute with a planned attack. Benzema cut back on the backheel, taking Eduardo Kamavinga's cross from the right side into the six-yard box. But Asensio's strong shot was blocked by defender Gabriel Paulista.
Meanwhile, in added time in the first half, Antonio Rudiger headed Modric's corner into the net. But just before that, Benzema fouled opposition midfielder Yunus Musah, then the referee dismissed the goal with the help of VAR. The referee also showed the French forward a yellow card.
The deadlock was broken in the 52nd minute. Asensio took a pass from Benzema outside the d-box and made an angling shot with bullet speed and put the ball into the net. The goalkeeper did not get a chance to move.
Also Read – 12+ Best Sites Like Movies7, Top Movies7.to Alternatives to Watch Movies
After three minutes, Vinicius took a through ball from Benzema and entered the D-box with speed and beat the goalkeeper with an angling shot and send the ball into the net. This is Vinicius' 49th goal in 200 games for Real Madrid.
Another goal could have been scored in the next minute. However, the goalkeeper blocked Modric's shot from a difficult angle.
Gabriel Paulista saw a straight red card for a dangerous foul on Vinicius in the 71st minute. Valencia was reduced to 10 men and they almost took another goal but the goalkeeper did not allow that to happen by stopping the ball with one hand.
The previous day, Barcelona beat Real Betis 2-1 to lead by 8 points. Real Madrid brought the gap down to 5 points again.
With 16 wins and 2 draws in 19 matches, Barcelona's points are 50. Real Madrid is second with 45 points in 14 wins and 3 draws in equal matches.