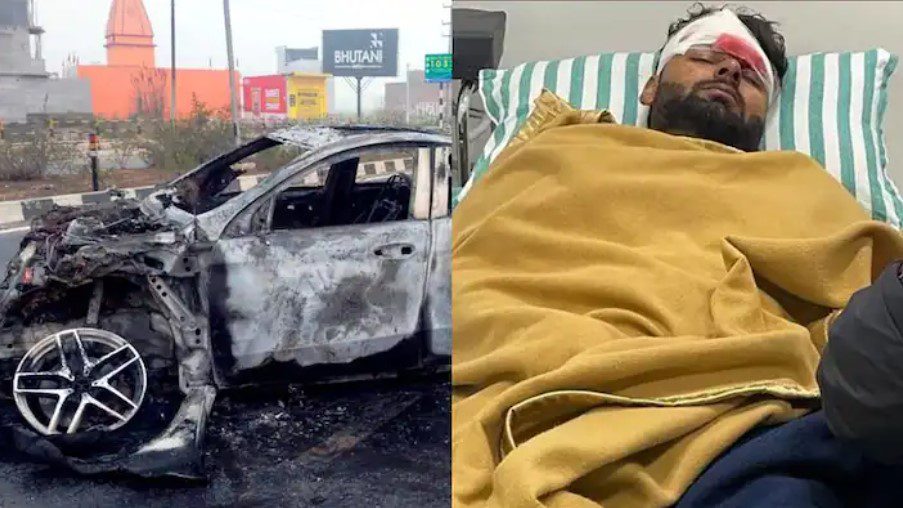 Rishabh Pant suffered a terrible accident at the end of the year. He was admitted to Max Hospital in Dehradun. In the car accident, the Indian wicketkeeper suffered burns in several parts of his body, including his back. Plastic surgery is done in all the injured areas. However, it is heard that Pant may be shifted from Dehradun to Delhi for further treatment.
Rishabh Pant was driving to Uttarakhand by himself on Friday morning. His expensive car lost control on the highway and hit the divider. The car burst into flames. Somehow, he got out of the car. He met with a terrible accident while he was going to give a surprise to his mother on New Year's Eve.
It is heard that an MRI of his brain and spinal cord has already been done at the hospital in Dehradun. Those reports are normal, nothing to worry about. Today, ankle and knee MRIs will be done. But his right knee and ankle ligaments are torn.
A deep injury was seen above his eye. He was bleeding when taken to the hospital. It is estimated that it may take three to four months to fully recover in such a situation. Pant is out of danger but as the injury is serious, he has been kept under the supervision of doctors.
It is also reported that plastic surgery has been done in several places. According to the news agency, a team from Delhi and Delhi Cricket Association is going to Dehradun to find out Pant's physical condition. If necessary, he can be airlifted from Dehradun to Delhi. There may also be remaining plastic surgery.
Doctors say, in such a horrific accident, something worse could have happened. However, initial reports did not reveal anything alarming. However, the doctors have made it clear that it will not be difficult for the wicketkeeper-batsman to return to the field.
Only two of the local residents came forward to help Rishabh Pant. The rest of the crowd was just standing. Pant, who was seriously injured, was picked up from the road by two youths. In the morning of winter, he wrapped a thick sheet. But no one informed the police or ambulance. Pant himself was seriously injured and called the police and an ambulance.
Actors Anupam Kher and Anil Kapoor went to meet Pant at the hospital in Dehradun on Saturday morning. Anil said, "The condition of Pant is stable. Please pray for his speedy recovery".
Meanwhile, the Haryana government felicitated Sushil Mann, the bus driver who rescued Pant from the accident site. He will also be honored by the Center for saving Pant's life. Uttarakhand DGP said, "Locals including Sushil, who helped Pant, will be felicitated".