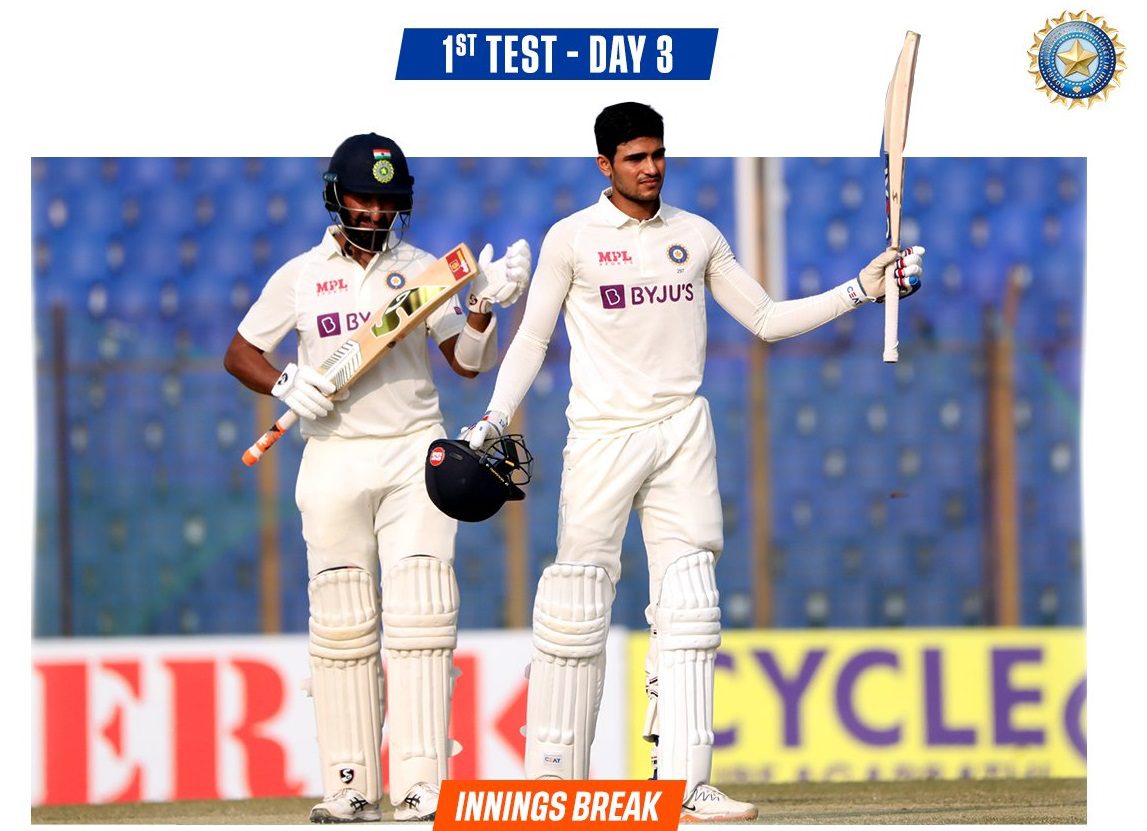 Shubman Gill and Cheteshwar Pujara's pair of centuries lead India to set a huge target of 513 runs in the Chittagong Test against Bangladesh. Shubman scored his first Test century also on that day, Chiteshwar Pujara scored his 19th century.
He scored a century in international cricket after 1444 days. Earlier, Pujara's hundred came against Australia in 2019. After so many days, Pujara was seen again in the Indian jersey, taking off his helmet and raising the bat in the sky. Along with that, Lokesh Rahul also declared the innings. India runs 258/2 in the second innings.
When Shubman picked up his bat after his century in Chittagong on Friday, Pujara, who was standing on the opposite side, had not even scored a half-century. Shubman scored his first Test hundred and four in his life. Earlier he was dismissed for 91 runs. The milestone was missed despite coming very close to a century on Australian soil.
Against Australia in 2019. On January 3, Pujara scored a century. After that, even after playing many matches, Pujara failed to make a century. At one point there was a situation of removing Pujara from the team. But Pujara is compared to Rahul Dravid.
It is believed that, like Dravid, he will drop down to number three and put up a wall in front of the wicket. No matter how many wickets fall, he will survive. Pujara used to do that, only the runs did not come. Pujara stopped 30, and 40 runs after playing 100, and 200 balls.
Pujara left to play county cricket due to being excluded from the team. There are back-to-back hundreds, not only that but also the strike rate of Pujara surprised everyone. An innings of 102 runs off 130 balls in Chittagong says that Pujara is now not only building a wall in front of the wicket but also scoring runs. You can change the speed according to the needs of the team.
India scored 404 runs in the first innings. Pujara returned to the dressing room after scoring 90 runs. His innings stopped just 10 runs short of the hundred. Shreyas scored 86 runs. In the last over, Ravichandran Ashwin (58) and Kuldeep Yadav (40) helped India score big runs.
Kuldeep also became the killer of Bangladesh with the ball. He took 5 wickets. Bangladesh finished with just 150 runs. Even after leading by 254 runs, India did not follow-up. They went down to bat and picked up 258 runs with hundreds by Pujara and Shubman. At the end of the third day, Bangladesh scored 42 runs without losing any wickets. Bangladesh needs 471 more runs to win this match. India needs 10 wickets.