Photoshop Scratch Disk Full: From editing photos to creating world-class banners Photoshop is something that is ruling the market. Developed by Adobe Inc. Photoshop is currently one of the best and most popular raster graphics editors that is available across many devices. There are so many advanced tools and features available in this tool that can't be found in any other similar editors.
The best thing about Adobe Photoshop is that it is available as both the free and premium version so anyone can use it. Just because this tool is more popular than other tools, the developers of Photoshop add more features to this app in each update. This makes Photoshop use more resources on the device, of course. This is another reason why Photoshop users face many problems with it.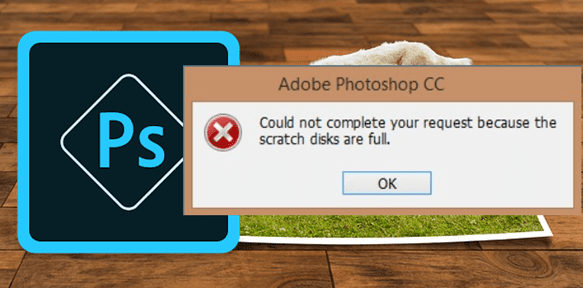 One of the most common errors among Photoshop users is "scratch disk is full". If you have faced this error, then you don't have to re-install your software as it is not related to the tool, but about the disk. Every software you install on your device consumes and reserve space on the hard disk to operate.
Apart from the CPU and RAM, hard disk is used for programs for storing the logs, settings, temporary files, and many other things. You might have noticed that with time, then the size of a program installed on your device keeps increasing.
The same goes for Adobe Photoshop scratch disk is full error. If you are getting this error then you can solve it by following some easy steps.
Here in this post, we are going to tell you everything about the scratch disk is full Photoshop error will tell you how to fix Photoshop scratch disk full error.
It doesn't matter if you are using Photoshop on Windows or MAC system, because the ways mentioned below to fix Photoshop won't open scratch disk full error can be performed on both systems.
Remember that you will have to follow the steps carefully and in the manner, we have mentioned them else you might corrupt something that needs to be fixed too.
Even if you are getting could not initialize photoshop because the scratch disks are full error, you can use the methods mentioned on this post to fix this issue and get your Adobe Photoshop working normal again.
What Is A Scratch Disk?
When you run any program or tool in your system, then it consumes RAM and CPU to perform an operation. Though when the load is higher on both the CPU and RAM, Adobe Photoshop is developed in such a way that it can use the free space of the disk to perform actions.
By-default the hard drive on Photoshop is installed is used as a scratch drive and this program can use the free space available on that disk to work smoothly. If you have any other large programs installed on the same disk, then you might need to consider installing Photoshop on some other disk.
If you have different types of hard disks in your system, then use the fastest hard drive as the scratch disk for Adobe Photoshop and similar programs.
What Is Photoshop Scratch Disk Full Error?
So now you know what Scratch disk actually is. Well, when this disk gets full or doesn't have sufficient storage to help Photoshop in running its operations, then it gives you a "Scratch Disk Full" error.
There can be many reasons behind this and it is not limited only to the storage. Sometimes when you force close the Photoshop tool multiple times, then temporary files get stored in the scratch disk.
The files are hidden and cannot be seen without selecting the "show hidden files" option in the explorer. This can limit Photoshop from consuming more disk space and gives you the error.
How To Fix Scratch Disk Full Photoshop Error
Change/Add Additional Scratch Disks
The best way to fix can't open Photoshop scratch disk full Windows/MAC error is by changing the scratch disk location. You can either allocate more space to the default disk or change the disk location.
We will recommend you to change the disk location as it works pretty fine to get rid of this annoying error. It is very easy to change the location of the scratch drive that makes it possible for everyone to do that.
You don't need any assistance in doing that as we have mentioned the steps below. Just follow every step and you will get the work done.
On Windows:
Open Photoshop and click on the Edit button.
Click on Preferences and select Scratch Disks.
On MAC:
Open Photoshop CC Menu.
Click on Preferences then click on Scratch Disks.
Now you can select any other drive for your Photoshop to use it as a scratch drive. Remember that you must not use the drive where your system's OS is installed.
Also, do not use removable or network drives as they will make the entire process complicated for Photoshop. You might not be able to run the program normally.
Delete Photoshop Temporary Files
If you are closing the Photoshop forcefully (without using the exit option) then your hard disk might have some temporary files stored in it related to Photoshop.
One file is created each time you force close the Photoshop tool and the size of each file depends on the work you have done in Photoshop before closing it. If you are not cleaning the temporary files folder in your system, then you should do it.
The Photoshop temporary files are stored with name ~PST####.tmp on Windows and with the name Temp#### on MAC systems. Here the # refers to a series of a number. You must delete these files so that Photoshop can get more disk space to work on.
Don't worry because these files are not necessary and you can delete them without any worries. The path where you can find these files is mentioned below.
C:\Users\<username>\AppData\Local\Temp
If you are using Photoshop on the MAC system, then you can execute the following command in the Terminal Application to open a temporary files folder. Make sure to delete everything from that folder to fix Photoshop scratch disk full error.
echo $TMPDIR
Defragment The Installation Hard Disk
Defragmenting the hard disk can also help you to fix scratch disk full Photoshop error as it frees up the used space. Fragments are those files and folders on your hard disk that are stored by some other programs but are far away from each other. By doing so, some small space gets stuck between them and doesn't let any other program to utilize it.
Disk Defragmentation tools help you in compressing the disk size, hence freeing up some space automatically so it can be used by any other program or by the user. If you don't have any idea about this activity, then you can use the tools mentioned below for defragmenting the hard disks.
Increase RAM Allocated By Photoshop
As we told earlier, if your system doesn't have much RAM to make Photoshop run smoothly, then it will start using the disk as a scratch disk. So another solution to Photoshop scratch disk is full error is to allocate more RAM to Photoshop.
You can either stop doing other works on your system to free up some RAM automatically or use Photoshop's built-in settings to make it consume more RAM.
By-default Photoshop uses a maximum of the 60% RAM from a system, if you want then you can change this setting to make it use more. Here is how you can do it.
Open Photoshop and click on Edit from the menu bar.
Click on Preferences and then on Performance.
The performance pop-up box will appear on your screen.
Find the Memory Usage setting and use the slider to adjust RAM usage.
Do not more the slider above 80% as it makes the system slow.
Once you are done, just save the settings and the Photoshop scratch disk full error will be gone.
Clear Photoshop Cache
Photoshop and every other program on your system create cache when you run them. These files are used by the program on each run to load basic things faster. Every mobile app and desktop program you install on your device do that even when you want to know how to get free Robux.
Those who are not using any third-party cleaner program might need to clean the cache manually not only to fix Photoshop scratch disk full error but to run other programs without any errors. Here is how you can remove the Photoshop cache from your system to get rid of the scratch disk full Photoshop error.
Open the Photoshop tool and click on the Edit button.
Move your mouse to the "Purge" option.
Just click on All option to delete all types of cache.
You will get a warning that this step cannot be undone.
Take a full backup of previous projects before doing this.
When you are ready, just click on OK and wait.
Once the process finishes, all Photoshop cache will be removed.
Your scratch disk is full error will not show up again.
Final Words Photoshop Scratch Disk Full
So this is how to fix Photoshop scratch disks are full error and we hope you are able to fix this issue in your system. There are many ways available out there to fix Photoshop scratch disk are full error but the methods we have mentioned on this page works best among all.
If you are facing any issues with these methods and if you are still getting the same error after following the methods mentioned here, then you can ask us for help via the comments below. We will tell you a couple of more methods to get rid of this problem.