Spotify cant play this right now: Spotify is one of today's leading online music streaming services. The pleasure of sharing some pleasant songs has been spread to everyone. With its huge music library and the crazy features, this freemium music streaming service is worth the cost.
Yet there are some limitations too among all of the good features that are available in the Spotify. Imagine, you playing some of Spotify's best albums and it stops the tracks with an error saying "Spotify can't play the current track," "Spotify can't play this right now," or anything similar.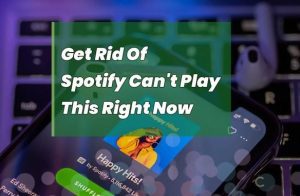 There are many steps that can resolve song-playing problems in Spotify, whether you encounter a Spotify problem on your laptop, smartphone app Spotify or on the Spotify web service. For several reasons, Spotify does not play a song of your selection and you must apply fix by identifying the cause of the problem. If you are not a tech geek, then you might face some problems in fixing the problem yourself as you may end up canceling Spotify's subscription.
To solve this and other problems associated with Spotify, you do not require technical skills since most of them are triggered by software or services from third-party apps. This problem may also be caused by the additional features and preferences of Spotify. What causes this problem does not matter, it is very easy to solve it.
Here's how to solve this typical Spotify error and other simple Spotify preferences, subscriptions, or software errors.  Follow every troubleshooting technique mentioned on this page to see if the problem is fixed.
The first thing you must do is to wait a few minutes and try to hear the song again, most probably the problem will be fixed automatically. If streaming starts, then it means the problem is solved, otherwise you will get the same Spotify server errors. If you can't solve the error, you should do so according to the following methods.
How To Fix Spotify Cant Play This Right Now Song Error
Clear Cache & Re-Install Spotify App
Spotify can keep temporary files offline in your computer periodically for optimum performance and ensure quick playback of Spotify songs. These files, if not get removed for a long time can create difficulties in listening to music.
If rebooting your Spotify app has not helped, then the Spotify app first needs to be uninstalled then the cache of this app must be cleared and then you can re-install the Spotify app.
Open Account Settings on the Spotify app, scroll down, and press the 'Display Advanced Settings' tab.
Next check for the 'Offline Songs Storage', you can find the file explorer address of Spotify's cache.
Open the folder and Erase All The Data stored in that folder and reboot the Spotify app and try to play some songs again.
Or, you can go to the 'C:\Username\AppData\Local\Spotify\' directory directly on your computer and delete the whole Spotify folder.
Then restart your computer, download, and upgrade to Spotify's new version.
Logout and Log-In Back In The Spotify App
Try signing out of the application and signing back in if Spotify is not functional. This problem mainly occurs in the Spotify desktop and most of the users have been able to fix it by signing out and signing in again to the app. It is quite easy, and you can follow the instructions listed below if you do not know how to re-login the Spotify app.
If you are using Spotify on a laptop, click the Down Arrow in the upper right corner next to your username, and then click Log Out. Sign in again to see if it resolves the issue after you sign out.
Click Settings, then click on your Profile, then find and click Log Out in the Spotify mobile app. Sign in again to see if the issue is fixed.
Click on your Profile and then Log Out in the Spotify web application. Check in to see if the problem is fixed.
Read Fix 0x0 0x0 Error
Disable High-Quality Streaming
As it appears out, this specific error happens with people who have people paid subscriptions to Spotify once their subscription expires. After analyzing the problem, we found that this was linked to a premium feature called streaming of high quality.
Spotify rewards paid subscribers with high-quality music, but it can be quickly disabled if the subscription is ended.
The only issue is that even though the Premium account is changed into a normal, the settings making this stays activated. This change, you might guess, leaves certain tracks unplayable because Spotify already has high-quality Premium variants.
This is perhaps the most popular source of the "Can't play the current song" error. All you should do to change it is to go to the settings menu of Spotify and deactivate High-Quality Streaming. Here is a tutorial to do this quickly:
Open Spotify and press the Down Arrow connected with the icon of your account (probably found in the right-hand corner of the desktop app).
Click on Settings from the newly appearing context menu.
If you are in the settings option, scroll down, and change the streaming quality from High or Very High to Automatic in the Music Quality category.
After the adjustment is made, simply restart your Spotify program and see if the error is fixed or not.
Turn Off Hardware Acceleration
Using Spotify's hardware acceleration on your computer allows your computer to work faster with the Spotify app. Though, changing this setting may establish a bad music experience by leaving songs disabled, continue to lag or not playing at all.
Disabling this setting works since it seems to have nothing to do with the track line up, but several affected people have verified that it works.
Firstly, by pressing the Down Arrow button in the top corner, open Spotify Settings.
Click the Advanced Settings button and scroll down.
Find Compatibility Settings then scroll down.
The option "Enable Hardware Acceleration" will be shown here.
You will be prompted to click to "Turn It Off" if this feature is enabled in your application.
Once this option is turned off, restart your Spotify app, and see whether or not the problem with your Spotify player is solved.
Read About: CTFU Full Form
Set Crossfade To 0 Seconds
The 'Can't play the current song' issue can also be resolved by disabling the Crossfade option in the Spotify app. Well, this is not only the case of Spotify but there are tons of music streaming players available out there that comes with cross-fade feature.
While this option comes disabled by default, but somehow it got turned on in your system then it can throw this error. You can go to the Spotify settings to turn it off if you're not quite clear about its role in your Spotify app.
If the Spotify app of your device has this option disabled, then you can activate it. It is then up to you to allow or disable this option from the Spotify settings. We could not find proof on how this setting works to fix this issue, however, several people have solved the problem by setting the Crossfade value to 0 in the Spotify Settings. Though, remember that this is not an official proof to fix this issue but you can try it.
Open your Spotify app.
Then, click on the Down Arrow (top-right corner).   You just have to click on the Settings when you see the menu bar.
Scroll to the bottom of the screen and click on Advanced Settings.
Now that you have seen the advanced settings, scroll down to the Playback area, turn on the Crossfade Slider, then set the control bar to 0 Seconds.
Restart your Spotify app to see if the problem has been fixed now.
ALso Read ps4 controller not connecting
Final Words : Spotify Can't Play Current Song Track
These were some of the ways we've tried ourselves to fix Spotify can not play a song error and these methods have worked for a lot of users around the world. If you are able to fix this problem by following the methods mentioned above, then let us know what solution worked for you. If you know about any other new solution that works to get rid of this error, then let us know about it via the comments below and we will add it in the post.
We would suggest that you try all of the methods mentioned on this page and continue to play the songs after each method to know whether or not the issue is solved. If you still are not in a position to resolve the problem, you can notify us so that we can mention more Spotify can not right now play the current song solutions in this article to help you in solving this issue.