Free remote desktop software: Computer and laptops have become an essential part of everyone's life. These days almost every household and person has access to these devices. No work is possible without using a computer or laptop. Well, these are electronic devices and they can get into problems too. Sometimes because of unusual activity by the device itself, sometimes because of the users. It doesn't matter what problem you are facing with your computer or laptop, you can always get help regarding it. One of the advanced ways of solving your PC's problem is by allowing an expert to have a look at your device using remote desktop software.
A simple search on the internet will get you a list of hundreds of Windows 10 remote desktop software tools but not all of them are worth downloading. Remember that there are both free and paid Windows remote desktop connection software available out there so you can get them as per your needs. Also, each operating system either it is Windows, MAC, or Linux comes with an in-built remote desktop connection application but it is not effective as third-party tools. There are some really high-quality remote desktop software with advanced options available out there and you must try them instead of the built-in remote connection app.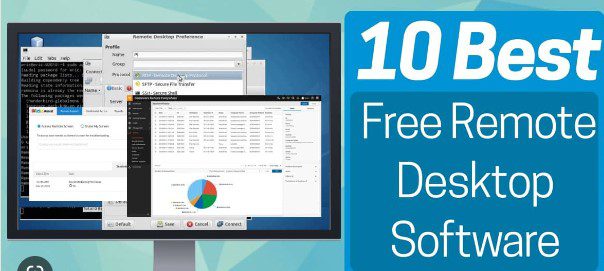 Here in this post, we are going to tell you about some of the best remote control software tools that will help you in connecting with each other easily. These remote control software come handy many times and they are not just for getting help from someone. You can also use these tools for sharing files and talking with each other for free just by using the internet. Possibilities are endless when you have a good remote desktop tool with you and that is why we thought to post about it. We have tested hundreds of such remote desktop software and then prepared this list of top free and best remote control software for PC.
What Is Remote Desktop Tool?
As wet told above, free remote control application is basically a tool that allows you to see and connect with another system wirelessly. Remote connection tools are useful when you want to show someone your PC and let them access your device from their own PC. Remember that most of the tools will work only when both of the PC devices have the same program installed. So before doing anything make sure both devices have the same tool with the same version installed. Recently, a lot of such tools has started allowing users to transfer files as well, so you can take advantage of this feature for sharing files as well.
Best Free Remote Desktop Software | Free Remote Computer Access
TeamViewer is currently one of the most popular and best free remote PC access tools available out there. This program has got a lot of useful tools that you can also use it for commercial purpose. Well, TeamViewer can be downloaded for free but there is a paid version available too that offers some advanced features.
This tool is available for almost all devices running on Windows, MAC, Android, and iOS. This cross-platform remote connection software allows you to talk, chat, and send files using this tool. If you will opt-out for a commercial license then you will get some features like channel groups, ticket management, multi-user support, and many more.
AnyDesk is not just another free remote access programs but this remote desktop software is being used by many IT professionals to provide support to their customers. More than 200 million people around the world are using this software for easy remote connection, file sharing, and corporate work.
AnyDesk is also available for different devices running on Windows, MAC, iOS, Android, Linux, Raspberry Pi, and Chrome OS. This program has got a very clean and easy to use interface that makes it one of the best remote control tools of today's time. One more good thing about AnyDesk is that you don't have to install it to use this tool.
Splashtop is a premium remote computer access software that is available for various operating systems link Windows, macOS, Chrome OS, Android, iOS, and Linux. Remember that this program is not free and you will have to subscribe to its monthly/yearly subscription plans according to the number of users and uses to download it.
The subscription plans of this software start from $5/month for an individual plan and go up to $40/month for business and enterprise edition. You can also use this tool to cancel Xbox subscription plan of others. If you are an individual who is thinking of providing one-to-one tech support online, then you can consider buying this software. You can take a 7-days free trial of this tool without submitting any credit card details.
Chrome Remote Desktop is one of the best remote desktop software to use when you don't need advanced options like file sharing, text messaging, voice communication, and more. This simple and easy to use remote connection program will help you to connect with any other device running the same program on their device.
It is available for Windows, MAC, Android, and iOS and you must have a Google Account in order to use this program. The best thing about Chrome Remote Desktop is that it can be accessed via the Google Chrome browser, so you don't need to install any app on your PC to use it. It is a must-try app for a quick remote connection.
TightVNC is a free remote control software that is completely free for both personal and commercial use. It is basically an open-source remote access software so you don't have to worry about anything while using it. This software has got all of the basic remote controlling features that a tool must have.
Though it is not as advanced as other tools of this list. If you are looking for light-weight remote control software for Windows then you should definitely check it out. This program is available with the name TightVNC only for Windows, VNC Viewer for Android & iOS, and with the name Remote Ripple for MAC devices.
Microsoft Remote Desktop app is available for Windows and mobile devices that are running on Windows OS. This app was made specifically for Windows 10 users but if you have Microsoft Store in your PC, then you can download this app. Well, this app is different from the Remote Connection app that comes pre-installed with Windows.
This app is absolutely free and you don't have to pay a single penny to use it. This is definitely one of the best remote connection app you can download right now. You will get all basic features in this app and it allows you to run different programs like Paint, CMD, PowerPoint, MS Word, Excel, Server Manager, etc. apps on the remote machine.
Mikogo is a cross-platform screen-sharing app that can be used as a remote access tool too. This program allows you to connect with up to 25 different devices at a single time. Also, this app has got all basic to advanced features that you might ask for in a remote connection app. It is definitely a good remote access app to try.
While Mikogo is popular because of the features it offers, many people don't like it because this app is paid. The pricing starts from $14 per month and goes up to $48 per month for a team plan that is suitable for businesses. This app is also available for Android and iOS devices and allows you to record your remote sessions for offline viewing.
LogMeIn is also a paid remote management tool that costs around $349 per year for an individual and 2 computers while the business plan is around $1500 for 10 computers. Though the pricing might look high this tool has got a lot of useful features that will come handy if you are looking for remote access tools for businesses.
You can do remote printing, scheduling remote connections, storing logs, collaborate files in a single click, and much more with this program. There are different variants of this program available, so you can download one according to your needs. We will recommend you to try this tool only when you are not convinced with other paid tools of this list.
As the name says, PCAnywhere is a program that allows you to access any PC from anywhere you want. Remember that the name of the PCAnywhere tool has been changed to Anyplace Control, though the developer is the same. You can use this tool to connect with another PC device either via the internet or via LAN connection too.
The file transferring speed of this tool is very fast and that's what makes is stand out from the crowd. If you are looking for a tool to share files with multiple PCs at the same time, then you can consider using this app. The free version of this tool will give you all features for offline access while the premium version doesn't have any restrictions.
GoToMyPC is another paid remote connection app that is available for various devices. You can download this program for Windows, MAC, iOS, and Android devices. The individual user license costs around $35 per computer per month and the corporate plan costs around $140 per month that allows you to do unlimited remote sessions for 10+ users.
There are some good features available in this app that makes it worth the price. This software has support for multi-monitor displays so you can access all of them using a single monitor. Also, file sharing and copy-pasting is also possible with this tool. If you are looking for a simple and easy to use remote connection tool, then you can try it.
Radmin is another premium remote control software that can be used by both individuals and professional tech support agencies. This program offers high-quality video support and connection speed that makes is better than other similar tools of this list. These features also improve the experience of the customers talking to tech support.
Each connection made on Radmin is encrypted with AES256-bit encryption, so you don't have to worry about anything getting out of your device without your permission. This is a paid program but it offers a 30-days free trial to both the individual and corporate users and you must try it once to understand its amazing features.
Dameware Remote Support software is another paid remote control tool that allows you to get and provide remote assistance to anyone around the world. This program is available only for Windows, MACa, and Linux. So if you are looking for remote access tool for Android or iOS, then you will not be able to use it.
This software offers a free trial to all users for 14 days and after that, you need to pay according to the technicians using it. The price starts from $388 for 1 technician license and for 15 technicians the price is $301 per license. This might be a costly remote support tool but it is definitely a good choice for professionals.
RemotePC by IDrive is a paid remote support software that is available for all major operating systems like Windows, MAC, Linux, iOS, and Android. This tool has got a similar interface to TeamViewer but features are completely different. This software is built specially for professional support and not for casual remote connections and file sharing.
The best thing about RemotePC software is that you can use it even via a web browser too. Once the program is installed on a system, you can visit the web version of this tool to control the device without installing this tool. The pricing of this tool starts from $22.12 per year for single-user and goes up to $374 per year for unlimited technicians.
Remote Desktop Manager is available as both free and paid version and you can get one based on your needs. This program is available for Windows, MAC, Android, and iOS devices and then the free version will provide you all basic functions like remote access and password management. But if you are looking for more advanced features then you need to go with the Enterprise version.
This program offers a 30-days trial to the enterprise users and you can opt-out for it to try it before buying. This software might not be as popular as other tools of this list but it is definitely a useful tool when it comes to remote management. By using Remote Desktop Manager software you will be able to do audits and prepare reports of the connection made with the app.
Last but not the least is the Remote Utilities tool which is another freemium remote control software that is available for Windows, MAC, Linux, Android, and iOS devices. The best thing about Remote Utilities is that it provides a one-time purchase of the software and it is not a subscription-based purchase which is definitely a positive aspect of it.
The pricing starts from $99 for a single user and goes up to $12,000 for an enterprise license that gives unlimited usage. The good thing here is that the features of all licenses are the same and there is just a difference in the number of users that can use the software. So even if you are using the individual license you will be able to enjoy all of its features.
Final Words Free remote desktop software
So this is all about free remote desktop software and we hope now you know about some of the best free remote desktop software. There are tons of options available out there for remote connection needs but the tools we have mentioned in this post above works best among all. Some of them are available for every operating system, so don't have to worry about that too.
We will update this post with more free remote computer access software, so keep visiting cv to know about them. If you have thought to try any paid tool then we will recommend you to buy it instead of using any cracked version it as it many have virus or malware. If you have any questions regarding them then you can ask us about them via the comments below.