Oven Roasted Brussel Sprouts : People always seek something different in their daily lifestyle and food habit. Who doesn't want to try new dishes every day, and who would refuse to have something new in their daily meal? At this moment we are looking for a new dish. Brussel sprouts definitely bring a different taste to your regular meal. Here in this detailed article, I am going to share with you how to make oven-roasted Brussel sprouts easily.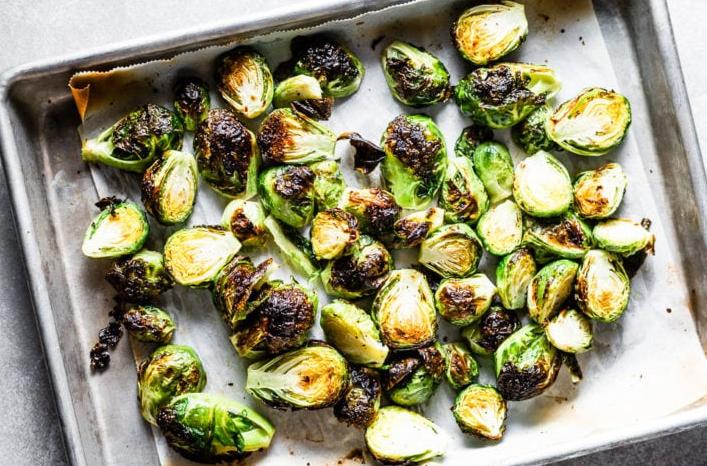 Are you looking for the cooking recipe of Brussels? Then you are exactly at the right place. Here you will get the desired homemade oven-roasted Brussels you are looking for.
For Spaghetti Lovers: How To Make Spaghetti At Home
But before we proceed ahead, let us clear all the confusion, if any, you are having inside your mind regarding the name BRUSSEL.
Yes, it might be possible many people don't know yet what Brussel is, how does it look like, and where you get this vegetable.
So here we will start by introducing you to the vegetable called Brussel.
Our Best Recipe: How To Make French Toast With Pound Cake
WHAT IS BRUSSELS?
Brussel is a type of vegetables that looks exactly like cabbage but quite smaller than the ordinary cabbages we buy from the market. Or you can say this vegetable belongs to the cabbage family.
You can have Brussels as a fried dish, or you can make other recipes too. But here we are about to share with you the recipe for oven-roasted Brussels. Brussels roasted into the oven might be the preferable recipe & many people have been searching how to make it at their own house.
If you are also looking for it, then read till the end.
Before the recipe, let us know a little bit more about Brussels.
For All Eggs Lovers: Best and Simple Way To Make Deviled Eggs Recipe
BRUSSEL CULTIVATION
Brussels is similar to the cabbages that is mostly available in the market all the time. But few particular countries actually cultivate this vegetable.
The Southern Netherlands is mostly known for the cultivation of Brussels.
In the 13th century, the first cultivation of brussels sprouts was being cultivated in Belgium. This food needs a minimum temperature of 7 to 24C to grow up.
Nowadays this food is not limited up to that particular place. This is available in every corner around the world. So, collecting Brussels to make a meal according to your wish is no longer tough or costly at all.
SIMPLE RECIPE FOR HOMEMADE OVEN ROASTED BRUSSEL
The best taste of Brussels is roasted one. In this 21st century, oven-roasted Brussels can be considered as a trending food too. This is not only trending but also healthy too. It takes over all 45mins to 1 hour to get prepared for your desired dish. Here are the steps need to be followed for cooking oven-roasted Brussels.
Before cooking them in the oven, let us see the ingredients we need to add.
INGREDIENTS:
Brussels 
Olive oil
Kosher salt
Black pepper 
These are the few ingredients you will need to prepare your roasted Brussels. Now let us not make the wait for you for the recipe.
Follow these few steps accordingly –
Step 1 – GET YOUR BRUSSELS FROM THE STORE 
You can buy the green and medium-sized Brussels from the store. They must not look yellow or brown from the outside because this type of Brussels may not taste much good or match your expectations.
Step 2 – GET THE SHAPE & SIZE
Cut the lower or rooted part of the Brussels because it is obvious that you won't like to have them. Then divide them into two parts, or you can also trim them or chop to roast well.
Step 3 – HEAT THE OVEN
Take an oven & heat it well at least 400F temperature. The more you heat the pan or oven, your cooking gets faster.
Step 4 – PREPARE THE BRUSSEL 
Take the trimmed Brussels in a bowl & add olive oil, pepper & kosher salt, and mix them well. Leave the mixture for few minutes.
Step 5 – FRY THE BRUSSELS
Place the mixture into the preheated oven and fry for a minimum of 30 to 45 minutes. Keep shaking the pan to prevent the burning of your oven roasting Brussels.
Step 6 – TAKE OFF THE PAN
When you see the color turning into brown, or almost they are turning into black, take off the oven or pan. Otherwise, there's a chance of burning of the Brussels, and they might taste bitter.
Step 7 – DESIGN YOUR DISH
You can add some extra kosher salt if needed.
Get the tasty oven-roasted Brussels on your plate. You can have it with or without sauce or any other dishes.
Step 8– SERVE THE DELICIOUS DISH
Serve the hot and delicious dish with some sauce, or you can make some rice or any other preferable meal with it.
This food can be very common worldwide & this is not the only way to cook the Brussels. There are lots of dishes and recipes for this item.
You can try different recipes for brussels sprouts.
– Sauteed brussels sprout
– Grilled brussels sprout
– Honey balsamic glazed
– Cheesy Brussel sprout
– Roasted Brussel
– Bang-Bang Brussel sprout etc.
There are plenty of items and techniques for cooking Brussels in your kitchen, which costs very little compared to any other restaurant. Even if you own any restaurant or food stall then you can also recommend or serve this food to your customers.
You all will prefer to make such meals at your place. And, the overall cooking method is also quite easy and with a minimum effort, you can prepare this dish in your own kitchen.
Conclusion: Oven Roasted Brussel Sprouts
So, we have given you a brief and simple description of how to cook oven-roasted Brussels at your home. Just follow the steps mentioned above and taste and treat something new to your family. Some of you might unaware of this food and some may know well.
It's all about learning something new and tasting some unusual food. Hope this article will be enough help to you to bring your favorite food to the table. Do let me know if you have tried this recipe and found it worth trying and recommending to others.