We all live a life full of different colors, different attires, languages, and plenty of different foods. Who doesn't love to try different foods that taste different? Even I also prefer a new dish to get served on my plate at least once a week. While talking about a new dish, A very common food comes to my mind; that is the Egg. Eggs are commonly a favorite dish of almost everyone. There is a variety of Egg made foods we have every day.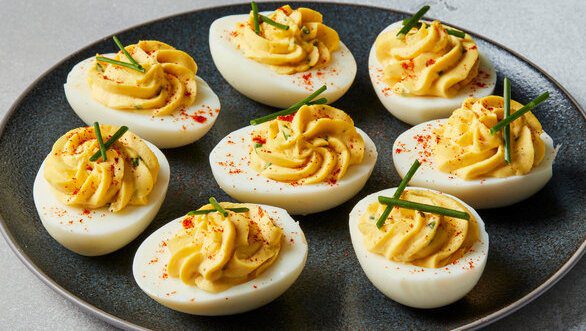 I would not be surprised at all, even if you say that you have added eggs to your daily diet chart. This food is something that people can hardly refuse to eat.
Truly I feel that, if we like an item then trying different recipes and dishes of that particular item seems more exciting. Here I am going to tell you about a new and delicious item made of eggs. That is called Deviled Eggs.
Deviled eggs are the simplest but mouth-watering dish you have ever tried. Moreover, it will be more interesting if you make it in your kitchen. Before I tell you the best Deviled Eggs recipe guide, you should know more about it.
Also Try: French Toast With Pound Cake Recipe
What is Deviled Eggs? Know here!
The deviled Egg is nothing but a classy food, better explained as the half-boiled Egg filled with delicious creamy egg yolk mixed with mayonnaise.
You won't believe it, but this dish will tell you how tasty even a boiled egg can be. Since the ancient period, this food was famous among southern countries like Spain.
The unique idea just melted my heart, and this food arouses more lust in my tongue. I must suggest everyone try this one dish. Yes, to prepare the dish, you must have some ingredients available in your kitchen, which I will discuss below. This recipe for Deviled Eggs will help you to get the food on your table you have imagined for the last few moments.
The ingredients for Deviled Eggs are easy to be collected from any of the grocery shops. So, let's see what those ingredients are and how they make such yummy food for you.
Also Know: Brussel Sprouts Recipe
Ingredients of Deviled Eggs:
Deviled eggs do not require many costly or hardly available goods. So making them is easier. Here are the simple ingredients you will need to prepare the deviled eggs.
Boiled Egg
Mayonnaise
Vinegar
Salt
Sauce
Smashed black pepper
Smoked Spanish Paprika
These are easily available in any grocery shop. They are not even much costly. So, nothing to be worried about getting them near to your hand whenever you want it. So, now you have the list of ingredients in your hand. After collecting them, you would be in a dilemma, where to start from.
The next steps mentioned below will teach you how to cook Deviled Eggs at home easily. Just follow the steps and get it done in no time.
You Must Want to Know Homemade Spaghetti Recipe
Deviled Egg recipe guide:
I must assure you that making Deviled Eggs is not at all like learning rocket science. I simply meant that it is even easier than you are thinking.
Take fresh eggs as per your requirement. You might prepare it for yourself or for the guests. So, the quantity will be total as per your needs.
Take a bowl and add a well amount of water to boil the eggs. Put the bowl over heat to boil the eggs. Keep them boiled until the eggs turn a little bit hard from inside. Because when the white part of an egg is hard in nature, there are fewer chances of breaking down the eggs. But, do not over boil the eggs that the surrounding of the yolk looks slightly green. That can even spoil the taste.
Take another bowl and remove the shells of the boiled eggs. Now you are making them ready for the next step, one of the main parts of a deviled egg.
Take a knife or something sharp that will help you to divide the boiled eggs. Before taking off the egg yolk, this step is necessary.
Now take a spoon and pick all the egg yolks up from the divided white egg parts. Take them into a bowl.
After taking all the yolks into a bowl:
Take a spoon to mix them.
Mix all the yolks and make it look like a creamy yellow mixture.
Add the ingredients one-by-one.
The ingredients are Mayonnaise, Vinegar, Salt and Black Pepper. Again, mix them well.
Now the last and most important part of the dish will be done in this step. Take a spoon or a piping bag, which will be used to fill up the white portion of the eggs with this yummy tasty mixture of egg yolks. Piping bags will give it a good texture. So, this can be used if you want to make your dish look perfect and attractive to look.
The last and final step is decorating the top of each egg yolk with some spice. You can use Tomato Sauces, or the best decorating good for this dish will be smoked Spanish Paprika. Just add some pinches of Spanish Paprika to give it a classy look.
Here, your deviled eggs are perfectly ready to be served to your plate or presented at the guest's table. Isn't it easy and time-saving too? This type of quick dish is demanding and trending in this era of a busy life schedule. So, you are all caught up to save your time and make a delicious dish for your family or friends.
CONCLUSION: deviled eggs recipe
People who love Egg made items will definitely love this. It's simple and cost friendly too. Anyone with little cooking knowledge can prepare this dish and get appreciated by others. Undoubtedly, this new and innovative dish will give anyone a restaurant-like feel. Even if you have a food outlet then you can also keep it on the menu as a starter item.
Hopefully, the homemade Deviled Eggs recipe will be much helpful for you. If you liked this Deviled Egg recipe, don't forget to share this with your friends who might also be looking to taste something good. This will become a trend to them too, for sure.